Gaylord Specialty Healthcare's S.T.A.R.T. Fund Enhances Philanthropic Model with Broader Applications and Opportunities in Rehabilitation, for Patient Benefit
19 March 2018: The common thread between Gaylord Specialty Healthcare's S.T.A.R.T. Initiative and Bio-investigations Ltd. is that both are extremely focused on technology that may play a key role in improving patient health. "S.T.A.R.T.," Gaylord Hospital's acronym for "Specialized Technology Assisting Rehabilitation Today," is focused on specialized technology that may provide leading-edge rehabilitation, with enhanced patient outcomes. Bio-Investigations Ltd. is uniquely focused on innovative early technology that may be advanced into diagnostics, therapeutics, medical devices, vaccines and digital health care services. Both Gaylord Specialty Healthcare and Bio-Investigations Ltd. are interested in products and services that may improve patient health, and allow for patient-centric healthcare to further allow the key stakeholders — the patients — more accurate information, input and control regarding their care.
While the S.T.A.R.T Fund has always had as a primary focus supplying advanced technology toward patient rehabilitation and as secondary focal areas the availability of potential scholarship funds for patients who need treatment, and patient care training, what has served as the impetus for a "change," or enhancement of the Fund, is the speed of evolution in available technology, continually becoming more sophisticated and specialized, at a faster and faster rate. A second motivating factor for the change is the increasing awareness that innovative technology may be discovered on the premises of Gaylord Specialty Healthcare as its' staff, at times in collaborations with others, make improvements and alterations in equipment, protocols, and rehabilitation programs. In essence, it has become apparent that "research and development" is aligned with the current and future evolving interests, and expertise, of Gaylord Specialty Healthcare. As Gaylord Specialty Healthcare enhances the philanthropic model for the S.T.A.R.T. Fund, there is a concomitant recognition that now is the right time to move some efforts, at Gaylord, more formally, into "Research and Development."
Bio-Investigations Ltd. will be assisting Gaylord Specialty Healthcare in the enhancement of the current fund, with a focus on entertaining philanthropic gifts from corporations, made directly to Gaylord. While the focus to-date of the S.T.A.R.T. Fund has not been corporations, it is becoming increasingly evident that corporations — where applicable — may in many cases be aligned in their philanthropic endeavors with the core values and mission of Gaylord Specialty Healthcare. Nevertheless, individuals will continue to be encouraged to participate in the Fund.
Along these lines the "S.T.A.R.T" Fund will stay the same, but change. While the goal will be to have corporations make unrestricted gifts that allow Gaylord Specialty Healthcare to make appropriate decisions for their stakeholders, Bio-Investigations Ltd. and Gaylord will be potentially defining a window in which corporations may look at modifications and enhancements of discovery initiated by funds provided by a corporation, for a period of time. In the world of innovative technology and commercialization this is often called a non-exclusive right to a first look at discovery — nothing more, nothing less — but carries with it the opportunity to explore potential next steps toward collaboration. These are huge strides that Gaylord Specialty Healthcare is making, and along these lines, we will with Gaylord — as a team — continue to refine the model. We look forward to providing updates on Gaylord Specialty Healthcare's "S.T.A.R.T" Initiative, as appropriate, from time to time.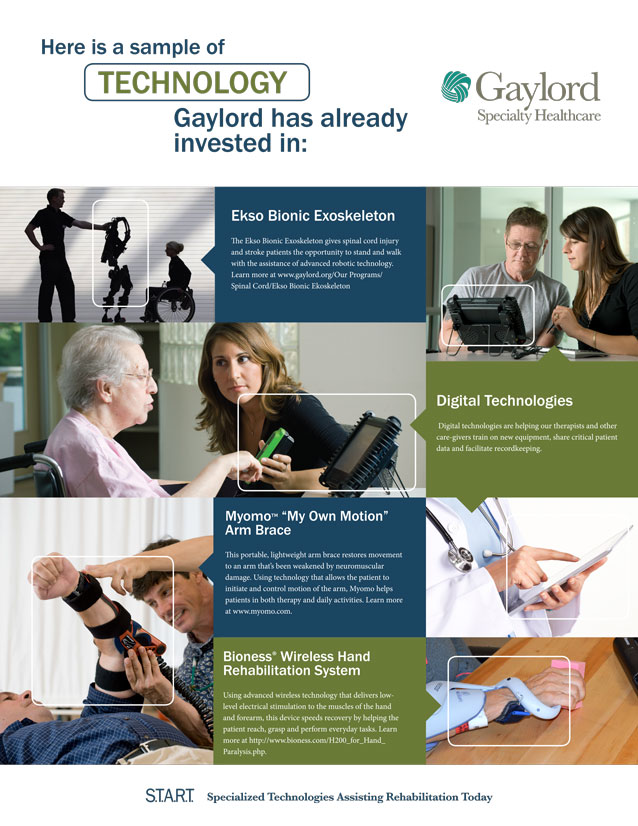 Nothing in this document is meant to serve as a solicitation of funds, in any way, shape or form, by Bio-Investigations Ltd. or Gaylord Specialty Hospital, but rather to share our collective wisdom — with Gaylord — in how we together see the S.T.A.R.T. Fund moving forward in a new, enhanced direction. Solicitations, and details of the Initiative, will be appropriately directed, with full disclosures, at the appropriate time, approved by Gaylord Specialty Healthcare.
Gaylord Specialty Healthcare, headquartered in Wallingford, Connecticut is a not-for profit, 137-bed specialty hospital that provides care and treatment of people with complex medical and intensive rehabilitation issues. Gaylord also operates outpatient therapy centers in Wallingford, North Haven, and Cheshire. For latest news or more information go to www.gaylord.org.